Jerome Washington--Portrait Artist
Growing up in Albion, Jerome at an early age developed a passion for drawing using family and friends as models. His love for life and people can be seen in his portraits of people both young and old. "I think it's great that I can use my God-given talent to bring a smile to someones face when they see a portrait of themselves". Jerome's art is in mixed media, colored pencil, watercolor, chalk, pen and ink, pencil and pastels.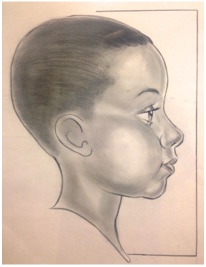 Portraiture by Affiliate Artist, JEROME WASHINGTON

Commission an amazing portrait to display in your
home or give as a gift to someone special.
Children, Teens, Adults and/or Family Groups
Portrait fees vary depending on the format size, number of subjects and the overall complexity and detail you request.
Basic Renderings--$15 to $25
Advanced Renderings--$35 to $100
Custom Matting and Framing--Additional $50 and up
*Click the Register Now button below to schedule a portrait session.